Courtyard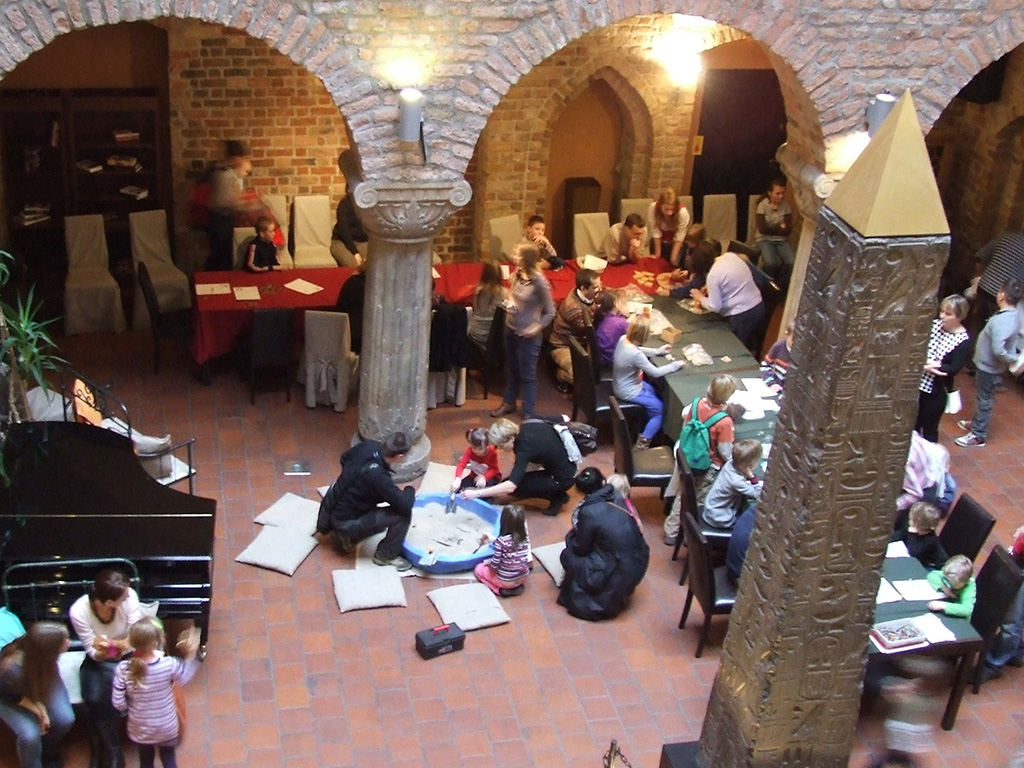 The courtyard of the Górki Palace has permanently inscribed in the landscape of the Museum's activity. In this beautiful and charming place there are regular weekends and other important events related to the activities of our facility. However, the most important element of the courtyard is certainly a unique obelisk from ancient Egypt that is unique in this part of Europe.
After the destruction associated with the activities during the Second World War, the Górka Palace fell into almost complete ruin. Fortunately, the inner courtyard with the arcaded cloister survived essentially intact. The intricately made renaissance portal of the entrance gate from 1548 also escaped from the war turmoil, as did the interior organization of the ground floor. The rest of the palace was reconstructed on the basis of a drawing by Julius von Minutoli (1804-1860), which is why the features of the Renaissance magnate building were lost.
It is even better to spend more time looking at the unique courtyard. Architectural research has shown that the arcades were opened only in the basement, no more on the next levels. It was an unusual solution on Polish soil, but according to Teresa Jakimowiczowa, it referred to the Florentine palaces. It is difficult to determine which architect was responsible for the shape of the palace. However, the researchers were able to say that stonemasons - performers of the sandstone columns of the courtyard, came from Silesia. Art historians define the columns as quite simple, not primitive. "(...) columns of the courtyard, squat, roughly hewn in the sandstone, stand on the border of craft processing of renaissance forms. From the pristine Attic base, the stem is slightly rounded at the base, tapering upwards, and devoid of enthasis. At the bottom, it is surrounded by schematic acanthus leaves treated in the broad crevices, sticks and pipes. The capital, almost cube-shaped, imitates composite heads. Its lower part and volutes are covered with acanthus leaves, analogous to those. which decorate the stem "- Teresa Jakimowiczowa writes in the book" Górka Palace "(1971).
The entrance portal probably came from an Italian chisel, as evidenced by the much better quality compared to the columns of the courtyard. The portal is characterized by a very transparent design and monumentalism.